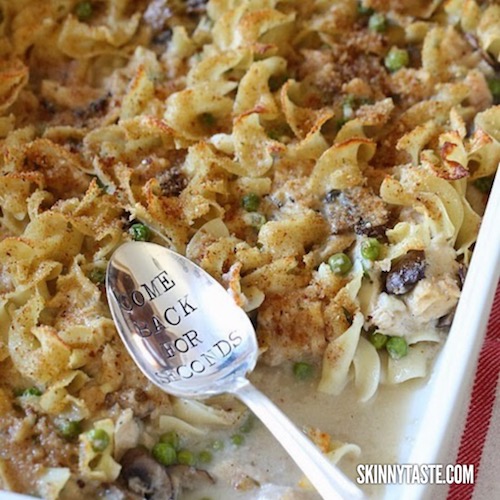 I love stews and casseroles – they're easy to make because you can typically throw in a bunch of ingredients and then leave it until it's done;  you can make them super healthy; and they don't usually take a lot of time to put together.
If you look at the ingredients, this casserole has a lot of healthy potential – just make sure you make the smartest choices with each of the ingredients. See below for my healthy substitutes and the original recipe (I think it's from one of my relatives)!
Ingredients for 6 servings:
6 oz noodles (choose from any non-whole wheat noodles – spelt, kamut. You could also choose a vegetable noodle but then obviously you don't need to cook them like you would a higher starch pasta)
1 tbsp butter (grass-fed)
1 medium onion, minced fine (organic onion)
3 tbsp flour (spelt or rice flour works well)
1 3/4 cups chicken broth (homemade would be ideal!)
1 cup 1% milk (choose organic/hormone-free or use an oat or almond milk)
1 oz sherry (optional)
10 oz mushrooms (organic)
1 cup frozen peas (organic, thawed)
2 (5 oz) cans tuna in water, drained (I used albacore)
4 oz sharp cheddar (use any kind of cheese you like, but choose organic)
instead of using cooking spray, use butter or oil
2 tbsp parmesan cheese (organic please)
2 tbsp breadcrumbs, ideally from a bread other than whole wheat
Directions:
Cook noodles in salted water until al dente, or slightly undercooked by 2 minutes. Set aside.
Melt the butter in a large deep skillet. Add onions and cook on medium heat until soft, about 5 minutes.
Add the flour and a pinch of salt and stir well, cooking an additional 2-3 minutes on medium-low heat
Preheat oven to 375°. Lightly spray 9 x 12 casserole with butter flavored cooking spray.
Slowly whisk in the chicken broth until well combined, increasing heat to medium and whisking well for 30 seconds, then add the milk and bring to a boil.
When boiling, add sherry, mushrooms and petite peas, adjust salt and pepper to taste and simmer on medium, mixing occasionally until it thickens (about 7 to 9 minutes).
Add drained tuna, stirring another minute.
Remove from heat and add 1 cup reduced fat sharp cheddar and mix well until it melts. Add the noodles to the sauce and mix well until evenly coated.
Pour into casserole and top with parmesan cheese and breadcrumbs. Bake for about 25 minutes.
Place under the broiler a few minutes to get the crumbs crisp (careful not to burn).
---