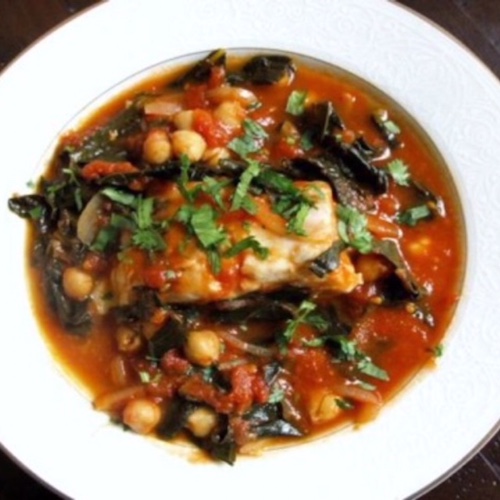 When people think of eating fish more often, they think it's limited to being poached or baked with some lemon or dill. Since that can get a bit boring, I'm always looking for fish recipes that are interesting, healthy and easy.
This recipe from Serious Eats is a go to for me and is proof that fish doesn't have to be boring!
🐟🐟🐟
Ingredients
2 tablespoons olive oil
1 large shallot, thinly sliced (about ¾ cups)
Kosher salt and freshly ground black pepper
1 (28-ounce) can whole peeled tomatoes
1 (14-ounce) can drained chickpeas
1 bunch kale, preferably lacinato or dinosaur, stems and tough center ribs removed, leaves roughly chopped (about 5 cups)
¼ cup low-sodium store-bought or homemade chicken broth
1 pound cod or other flaky white fish, cut into 3 to 4 filets
½ cup roughly chopped fresh cilantro leaves
Lemon wedges, for serving
Directions
Heat oil in a 12-inch heavy-bottomed skillet over medium-high heat until shimmering. Add the shallots and a pinch of salt, stirring until the shallots soften, about 3 to 4 minutes. Add the tomatoes and their juice. Allow the tomatoes to cook until softened, breaking them up with a wooden spoon or potato masher, about 3 to 4 minutes. Season with salt and pepper.

Add the chickpeas, kale, and chicken broth, stirring until kale is wilted. Bring to a simmer then lower heat to maintain a gentle simmer. Allow to cook until the kale has completely softened, about 15 minutes.

Reduce heat to lowest possible setting. Place fish directly on top of mixture, nestling it slightly. Cover and cook until fish is cooked through and flakes easily with a fork, about 10 minutes. Ladle the stew and fish into bowls, sprinkle with chopped cilantro, and serve with lemon wedges.
---