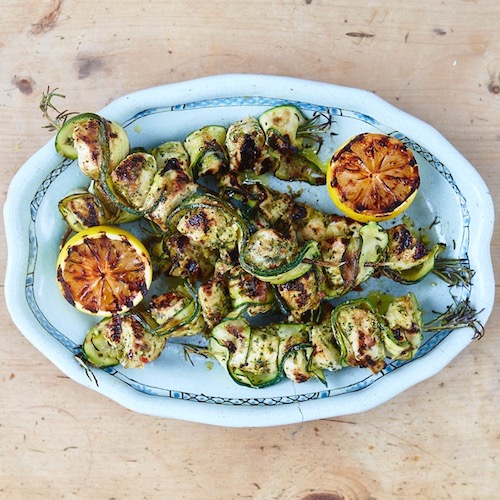 Recipe and image courtesy of JamieOliver.com
1. Peel 3 cloves of garlic, trim 6 spring onions and 1 fresh red chilli, then place into a food processor.
2. Add 1 handful each of fresh coriander and mint leaves. Finely grate in the zest from 1 lemon and squeeze in the juice.
3. Blitz until finely chopped.
4. Loosen to a paste with a little olive oil, then season with a pinch of sea salt and black pepper.
5. Place into a large bowl.
6. Cut 500g of free-range boneless chicken breast into 2.5cm chunks, then add it to the marinade and stir until well coated. Cover and place in the fridge to marinate for at least 1 hour.
7. Thread the marinated chicken between 6 to 8 skewers – you can use soaked wooden skewers or sturdy rosemary stalks with the leaves removed. Add strips of very thinly sliced courgettes too, if you like.
8. Grill for around 5 minutes on the barbecue, turning regularly, until cooked.
9. Serve immediately with charred lemon for squeezing over.