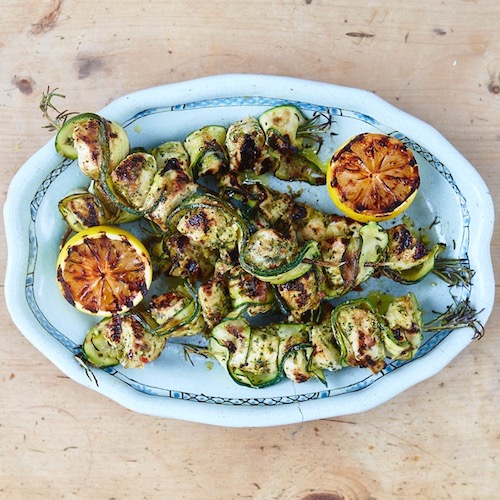 I'm a big fan of Jamie Oliver, not just because he's a talented chef, but because, in 2010, he was so determined to help reduce the high rates of obesity in the US that he started a TV series called Food Revolution. I worked in advertising at the time and had just started talking to his production partners about possibly getting involved with sponsorships when I got the call – the show had been cut.
So unfortunate that such a valuable series was off the air when it was so desperately needed – and not just in the US!
This recipe is for his chicken marinade. You cannot go wrong with it. Of course, make sure your chicken is free of hormones and antibiotics and use fresh herbs whenever possible. Enjoy!
Instructions:
1. Peel 3 cloves of garlic, trim 6 spring onions and 1 fresh red chilli, then place into a food processor.
2. Add 1 handful each of fresh coriander and mint leaves. Finely grate in the zest from 1 lemon and squeeze in the juice.
3. Blitz until finely chopped.
4. Loosen to a paste with a little olive oil, then season with a pinch of sea salt and black pepper.
5. Place into a large bowl.
6. Cut 500g of free-range boneless chicken breast into 2.5cm chunks, then add it to the marinade and stir until well coated. Cover and place in the fridge to marinate for at least 1 hour.
7. Thread the marinated chicken between 6 to 8 skewers – you can use soaked wooden skewers or sturdy rosemary stalks with the leaves removed. Add strips of very thinly sliced courgettes too, if you like.
8. Grill for around 5 minutes on the barbecue, turning regularly, until cooked.
9. Serve immediately with charred lemon for squeezing over.
---