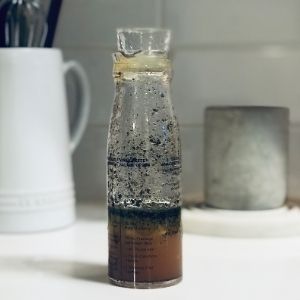 I often joke that I'm the Nutritionist that doesn't want to spend loads of time in the kitchen! For this reason, I am always on the lookout for quick and easy recipes – and that includes recipes for dips and dressings.
I use this dressing for any salad. I drizzle it on roasted chicken and roasted vegetables. And it tastes amazing when it's blended with quinoa (which soaks up the flavours in the dressing), bell peppers and arugula!
The most time-consuming part about this recipe is peeling and mincing the 1-2 cloves of garlic. You can roast it if you want, but it's your call.
And of course, like every other recommendation in this Nic's Picks section, the recipe is 100% clean and therefore 100% Nicole-approved!
Instructions:
Blend all ingredients together, shake 'em up, and enjoy!
3 tbsp extra virgin olive oil
3 tbsp apple cider vinegar
1-2 garlic cloves (roast if you have time)
2 tbsp maple syrup
1/4 tsp lemon
1 tsp dried basil or herbes de provence
pinch of sea salt and pepper
See? Pretty easy, right? Add to a bowl of arugula, peppers, cucumbers, avocado and a handful of walnuts and enjoy!
---