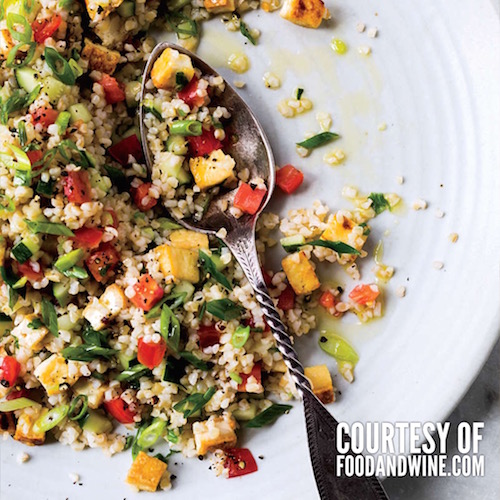 It's no secret that I like wine so it should be no surprise that this recipe is from FoodandWine.com!  This dish is so easy, so fresh and so quick to make (meaning it's great for those on a tight schedule).
As for ingredients, bulgur is a healthy whole grain (lots of fibre and a great source of plant-based protein) and is likely one you don't often eat (did you know the more you eat the same food, the better the odds are you could develop an allergy to it?!), plus you've got a quality fermented soy protein and a bit of fresh veg and fruit. I like to add vegetables wherever possible so to add some brighter, more nutrient-dense vegetables, I also add green, red or yellow peppers or even some very finely chopped broccoli.
A NOTE ABOUT WINE:
Although I don't recommend excessive drinking and some people absolutely need to remove alcohol from the diet (even if for a short period of time), there are some wines that I support more than others. I will get into it more in another post but in general, I choose red (usually cool climate) and try to choose organic or biodynamic as much as possible.
Ingredients
4 cups bulgur
5 tablespoons extra-virgin olive oil
One 14-ounce package firm tofu, drained and cubed
5 scallions, chopped, plus more for garnish
1 small tomato, chopped
1 Kirby cucumber, chopped
1 tablespoon fresh lemon juice
Kosher salt
Pepper
How to Make It
In a medium saucepan of boiling water, cook the bulgur until tender, about 12 minutes. Drain and return the bulgur to the pan. Cover and let stand for 10 minutes; fluff with a fork. Spread the bulgur on a baking sheet and let cool to room temperature.
In a large cast-iron skillet, heat 2 tablespoons of the oil. Cook the tofu and 5 chopped scallions over high heat, stirring, until golden and crisp in spots, about 5 minutes. Transfer to a large bowl. Stir in the bulgur, tomato, cucumber, lemon juice and the remaining oil and season with salt and pepper. Garnish with more chopped scallions and serve.
---