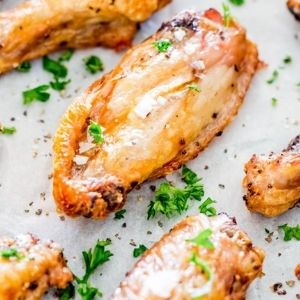 There was a time when I thought chicken wings were a horribly unhealthy choice. In fact, when I was about 18-22 years old, and working at Cactus Club Cafe in Vancouver (which was known for its hot wings back then), I would occasionally order them, but spend more time picking the skin off them to avoid as much of the 'unhealthiness' as possible. My coworkers would sit there wondering why I was picking off the best part!
Now, let me be clear – I'm not saying it's okay to go out and eat chicken wings at any restaurant out there. I am, however, saying that IF you buy the right chicken wings, and cook them in a healthy manner, they are a great snack, dinner, lunch, Super Bowl dish, etc.
Below is one of my fave recipes for Crispy Baked Salt & Pepper Chicken Wings recipe from Jo Cooks:
Ingredients
1 pounds chicken wings (hormone and antibiotic-free)
2 tbsp olive oil
1 tsp black pepper
2 tsp sea salt
1 tbsp parsley, fresh, chopped for garnish
INSTRUCTIONS
Preheat oven to 425 F degrees. Line a baking sheet with parchment paper.
Place all wings in a medium sized bowl. Drizzle the wings with the olive oil and toss well, making sure each wing is coated with a bit of olive oil.
Sprinkle the chicken wings with the pepper and salt, and toss well.
Arrange the wings in a single layer on the prepared baking pan. Bake for about 40 to 45 minutes or until they're golden crisp.
Sprinkle with more salt and pepper if preferred and garnish with some chopped parsley.
Serve while warm.
Want a great dip to go with these? Try out this Chive & Garlic spread from Spreadem!
---