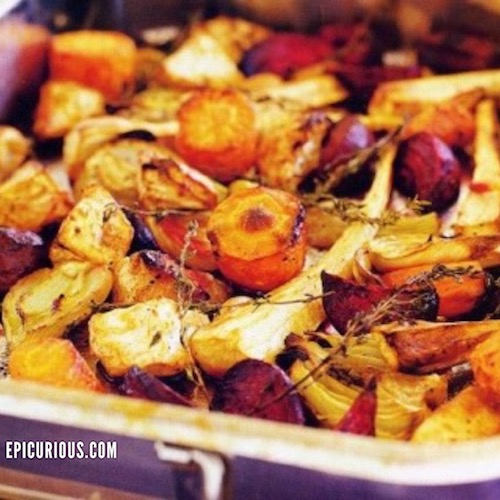 This recipe, from Epicurious, was given to me about 15 years ago and it's a go to for me to this day.  It's so easy to make, so good for you, helps you get your share of vegetables…not to mention the leftovers can be added to sandwiches (i.e./turkey sandwiches on Boxing Day) or eggs/hash or salads.
My suggestions:
This is a lot of vegetable cutting so if you're busy, buy the pre-cut veggies.
I love adding beets and baby potatoes to this mix.
Scratch the oil spray and stick with oil like camelina or olive.
Ingredients (for 10 servings):
Nonstick vegetable oil spray (as mentioned above, use a real oil instead)
9 tbsp extra virgin olive oil – I usually use camelina oil.
2 tbsp plus one and a half teaspoons chopped fresh thyme
2 tbsp plus 1/2 teaspoons chopped fresh marjoram
2 pounds medium yams/sweet potatoes, peeled, halved lengthwise, then cut crosswise into 1 1/4 to 1 1/2 inch pieces
1 1/2 pounds (about 4 cups) carrots, peeled, cut into 3/4 inch thick rounds
1 1/2 pounds (about 4 cups) parsnips, peeled, cut into 3/4 inch thick rounds
1 1/2 pounds (about 4 cups) rutabagas, peeled, cut into 1/2 inch pieces
2 medium red onions, peeled, root ends left intact, cut into 1/2 inch thick wedges
3 tbsp balsamic vinegar
3 tbsp chopped fresh parsley
2 tsp grated lemon peel
fresh parsley sprigs
Preparation:
Position 1 rack in top third and 1 rack in bottom third of the oven and preheat to 425°F. Oil 2 large rimmed baking sheets. Whisk 6 tbsp oil, 2 tbsp thyme, and 2 tbsp marjoram in large bowl. Roast vegetables until tender and brown in spots, turning occasionally, about 50 minutes. Can be made 4 hours ahead. Let stand at room temperature. If desired, re-warm in 350°F oven for about 15 minutes.
Whisk balsamic vinegar, remaining 3 tbsp oil, 1 1/2 tsp thyme, and 1 1/2 tsp marjoram to blend in small bowl. Drizzle over roasted vegetables. Sprinkle with chopped parsley and lemon peel. Season with more salt and pepper, if desired. Transferr to platter; garnish with parsley sprigs. Serve hot or at room temperature.
---