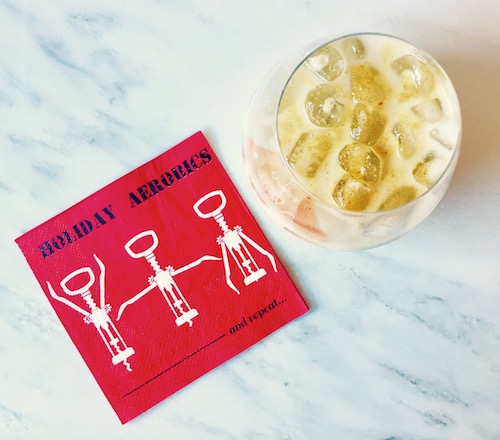 I LOVE EGG NOG! I've sipped it warm, iced, in martinis, on oatmeal, with coffee or earl grey tea, and of course, with a little spiced rum pum pum pum! And there is no egg nog that compares to my cousin's home made recipe which I've been drinking since I was young. The recipe below has a few modifications to the original recipe to make it healthier and more guilt-free 🙂
For those of you who have never made egg nog, it is SUPER EASY so please give this a shot before you reach for the store bought version that is loaded with extra 'stuff' you don't want in your body!
INGREDIENTS:
3 egg yolks (from free range, grain fed chickens)
1/4 cup maple syrup (instead of white sugar)
1/4 tsp salt
4 cups milk (1% or 2%), organic (You can try other milks too. I've used pumpkin seed milk which is great but you need to be very careful it doesn't separate when it's heated)
1 tsp vanilla
1 cup organic, hormone free homogenized milk (instead of 1 cup real whipping cream (whipped))
nutmeg (sprinkle)
DIRECTIONS:
Beat yolks and maple syrup together

Add milk and salt
Cook over medium heat until just below boiling point (KEEP AN EYE ON THIS! Believe me, I have had this mixture all over my stove top because I start doing other things! You don't want to be scraping burned milk off your stove…believe me!🤦‍♀️)
Remove from heat
Add vanilla
Pour through sieve to remove any egg bits that have cooked
Refrigerate for 1 hour to cool the nog
Stir/whip in the 1 cup of the cream
Sprinkle nutmeg on top
Serve warm, room temperature or on ice with or without dark or spiced rum, in a coffee, on oatmeal or however you want!
---