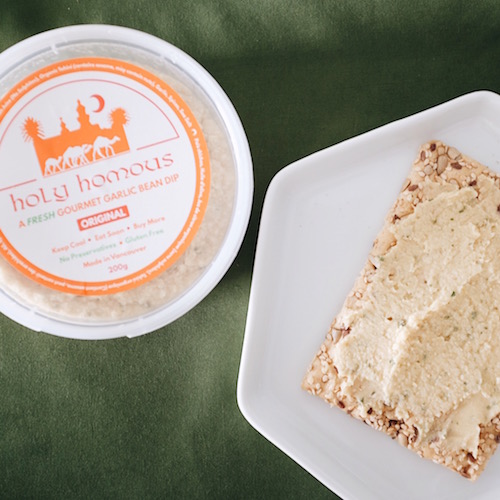 Nic's Pick | Holy Homous
The makers at Holy Homous want you to say "Holy $@!* that's good homous!" and I would guarantee that once you try it, you will say just that!!
More often than not, I would recommend people make their own foods from scratch – mostly to avoid fake ingredients and preservatives that are often added by manufacturers. But unless you are a chef or have a bunch of time on your hands, it's not realistic. This is why I am CONSTANTLY on the lookout for healthy foods that busy people can feel good about eating.
I have to say that the folks at Holy Homous have it figured out! This is some of the best, freshest, most authentic tasting homous I have ever bought. It's so fresh that you can actually taste all of the ingredients, which are wonderfully limited to real foods like chickpeas, olive oil and lemon. I have used it on sandwiches, crackers, salads, or as a dip for veggies or with toasted spelt, quinoa or barley bread cut into thick pieces. The worst part is that you can't buy it everywhere across Canada.
If you're lucky enough to live in the more populated parts of British Columbia, check out for retailers; if not, start requesting that your local market carries it… because Holy $@!*, it will be worth the wait! Thank you Holy Homous!