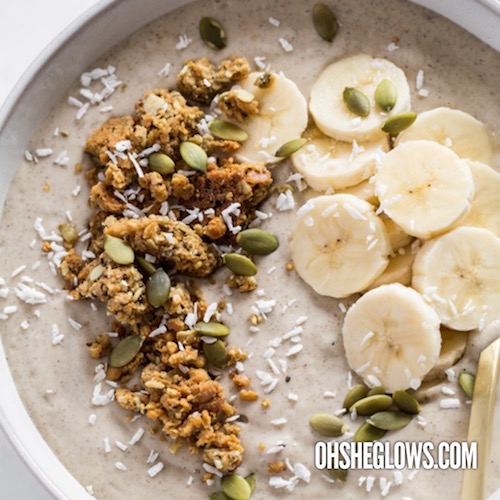 I probably promote smoothies less than the average nutritionist, but it's more because I don't believe in mixing fruit with protein, I'm more a fan of eating whole foods (and not protein powders), and really, they are often (though not always) better off to be consumed when the weather is warm, not in the cool seasons. That said, they are super easy to make and eat on the go, and frankly, some people just need to get nutrients in so I can't be too picky!
This recipe is from Oh She Glows. Angela Liddon, the author, creates beautiful meals and snacks and even more beautiful recipe books. And she's a Canadian entrepreneur, so she's got my vote!  See below for her recipe for the In the Buff Smoothie Bowl, with my modifications included.
1 to 1 1/4 cups (250 to 310 mL) almond milk, as needed (NP note: we are consuming a lot of almond milk these days…try to choose an alternative)

1/4 cup (40 g) packed avocado

1 large frozen banana, broken into chunks*

1 tablespoon (12 g) chia seeds

1 heaping tablespoon (12 g) hemp hearts

1 scoop (25 g or 1/4 cup) unflavoured protein powder (optional)**

2 teaspoons (10 mL) almond butter

1 to 2 pitted Medjool dates, to taste

1/2 teaspoon cinnamon, or to taste

1/4 teaspoon pure vanilla extract

2 ice cubes, or as desired

NP note:  if you can get some veggies into this smoothie, even better – spinach, chard, kale…anything!
Topping suggestions:
Granola of choice

Fresh fruit (sliced banana, berries, etc.) (NP note: you already have a lot of fruit in this smoothie so I would stay away from adding more)

Cinnamon

Hemp hearts and/or toasted sliced almonds

Shredded coconut
Directions:
Add 1 cup (250 mL) of almond milk into a high-speed blender, followed by the rest of the ingredients. Blend until smooth. If necessary, add more milk to get the blender going.
Pour into a bowl, and add your desired toppings. Serve immediately and enjoy with a spoon!
Tips:
Be sure to use a large frozen banana or the texture of the smoothie bowl won't be thick enough.
If you are omitting the protein powder, you can reduce the almond milk to 1 cup (250 mL), and add more from there if needed.
If you want a bit of a kick flavour-wise, try adding some fresh ginger (to taste) to heighten the flavours.
---