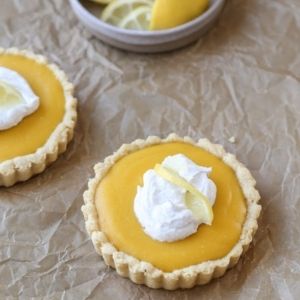 My Grandpa loved lemon. From what I know, he loved lemon meringue pie, but I'm sure he loved anything lemon.
So when I came across this recipe from Feed Me Phoebe, I shared it with my Mom so we could make it on Grandpa's birthday. And we did. And OMG, it was sooo good – so fresh, so clean, perfectly tart, and 100% approved – even for breakfast.
If you're a lemon lover, or even if you aren't, give this 20 minute recipe a shot. It's super easy, zinging with flavour, and you will never need to feel guilty if you lick the spoon 🍋
Instructions
Prep Time: 10 mins
Total Tme: 20 mins
Serving Size: 1 x 9 inch pan
Ingredients (for the crust):
2

 

cups

 

blanched almond flour

½

 

teaspoon

 

sea salt

2

 

tablespoons

 

melted coconut oil, plus more for greasing

1

 

large egg
Ingredients (for the curd):
3

 

eggs

¼

 

cup

 

raw honey

¼

 

cup

 

coconut oil

Zest and juice of 2 lemons (about ½ cup)
Instructions
Preheat the oven to 350 degrees. Line the bottom of a 9-inch tart pan with parchment paper. Grease the sides with oil or butter.

In a small food processor, pulse the almond flour and the salt until combined. Add the oil and egg and pulse a few more times until a dough forms. Warning: it will be very sticky.

Transfer the dough to the center of the tart pan. Using a sheet of plastic wrap or greased palms, press the dough out into an even crust, coming just ¼ to ½ an inch up the sides. Bake in the oven for 8 to 10 minutes, until firm and beginning to brown. Remove and let cool. If the crust puffs, just use your fingers to gently press it back down as it cools. Alternatively, you can weight it by covering the crust with a piece of parchment paper and a layer of dried beans.

Meanwhile, make the curd: in a medium saucepan, whisk the eggs and honey until smooth. Set the pan over medium-low heat. Add the coconut oil. Cook, whisking occasionally, until the oil is melted, about 2 minutes. Add the lemon juice and zest and continue cooking, whisking gently, until the mixture begins to thicken, about 5 minutes. Remove from the heat immediately and continue whisking to avoid any clumps. Some people will strain the mixture at this point. It's your call.

Transfer the curd to the cooked tart crust and smooth in an even layer with your spatula. Allow to cool so the filling sets and serve at room temperature.
---