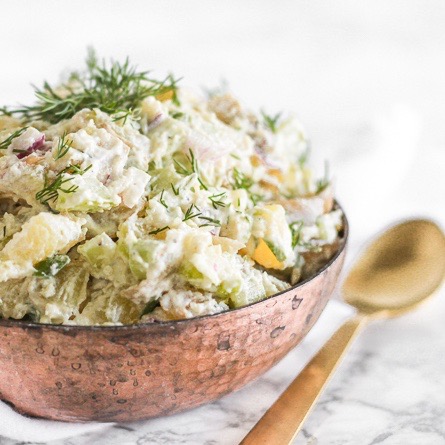 Growing up, potato salad was always a standard dish at family gatherings, especially at the lake or outdoor BBQ's. But so often the store bought potato salad has preservatives and other less than ideal ingredients. To up the wellness factor, I'm sharing this mustard-based version, courtesy of Kaleigh McMordie at LivelyTable.com.
Ingredients
6 medium sized red or gold new potatoes, quartered
1/4 cup red onion, chopped
2 stalks green onion, chopped
1 stalk celery, chopped
1 hard boiled egg, peeled and chopped
1/3-1/2 cup nonfat plain greek yogurt
1 tbsp dijon mustard
1-2 tsp lemon juice
2 tbsp fresh dill, chopped
Salt and pepper to taste
Instructions
In a medium saucepan, boil potatoes until tender. Let cool slightly before handling.
Chop potatoes in uniform 1/2-inch cubes.
In a large bowl, add potatoes, onions, celery, and egg.
In a small bowl, stir together greek yogurt, mustard, lemon juice, dill and salt and pepper. Pour over potatoes.
Gently stir everything to combine, adding more yogurt as needed. Refrigerate at least 1 hour before serving.
---