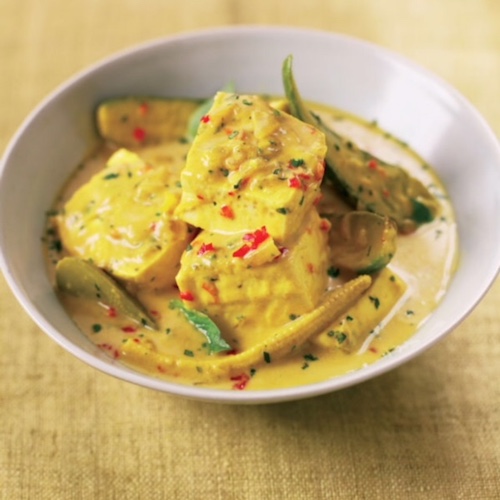 The very first tofu dish I made was about 20 years ago. It was the first time I'd tried using skim milk and maple syrup instead of coconut milk. It totally worked and it made the dish even more natural. If you can do the same with this awesome dish from Huff Post UK, and add more vegetables (peppers, broccoli or other), then all the better. Enjoy!
Ingredients
2 tablespoons sunflower oil
2 teaspoons finely grated fresh root ginger
8 garlic cloves, chopped
8 small shallots, chopped
1 teaspoon ground turmeric
2 red chillies, chopped
4 tablespoons very finely chopped lemon grass
400 ml (14 fl oz) coconut milk
200 ml (7 fl oz) vegetable stock
4 lime leaves, finely shredded
12 baby courgettes, cut in half lengthways
12 baby sweetcorn, trimmed and cut in half lengthways
400 g (13 oz) firm tofu, cut into bite-sized cubes
1 tablespoon dark soy sauce – I would swap out with Tamari (wheat free soy sauce)
1 tablespoon lime juice
salt and pepper
small handful of roughly chopped fresh coriander
finely chopped red chillies
Directions
Place the oil, ginger, garlic, shallots, turmeric, chillies, lemon grass and half the coconut milk in a food processor and process until fairly smooth.
Heat a large nonstick wok and pour the coconut mixture into it. Stir-fry over a high heat for 3–4 minutes and then add the remaining coconut milk, the stock and lime leaves. Bring to the boil, reduce the heat and simmer gently, uncovered, for 10 minutes.
Add the courgettes and baby sweetcorn to the mixture and simmer for 6–7 minutes. Stir in the tofu, soy sauce and lime juice, season to taste and cook gently for 1–2 minutes.
Remove from the heat and stir in the fresh coriander. Serve in bowls garnished with basil leaves.
---