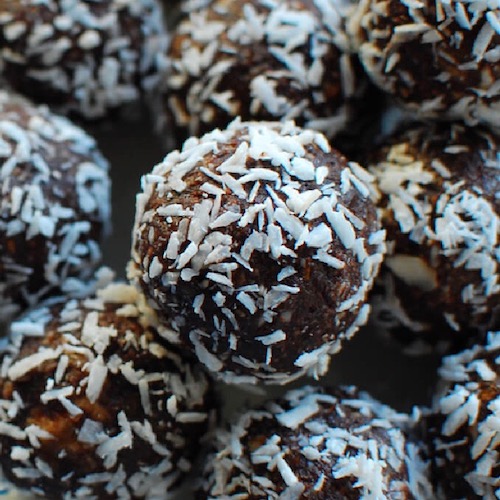 Courtesy of ThatCleanLife.com
Ingredients (14 servings)
1 cup – Almonds
1/4 cup – Cocoa Powder
1/2 cup – Unsweetened Coconut Flakes (divided)
1 cup – Pitted Dates (soaked and drained)
1 1/2 tbsps – Coconut Oil
1 tbsp – Raw Honey
Instructions
Combine the almonds, cocoa powder, and half of the shredded coconut together in a food processor. Process into a fine powder.
Add in the soaked dates, coconut oil and honey. Pulse until a dough-like consistency forms.
Roll batter into small bite-sized balls. Then roll balls through a bowl with the remaining coconut flakes to coat. Betcha cant eat just one!