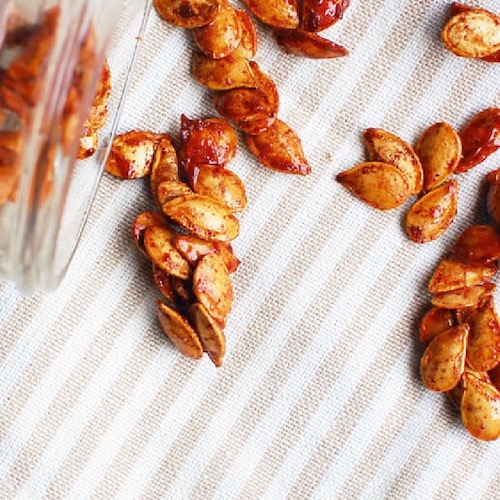 These Cinnamon Toast Crunch Pumpkin Seeds, courtesy of thatcleanlife.com, serve as a great option for those who want a sweet (and somewhat salty) snack with a crunch!
There is nothing in this recipe that I would classify as unhealthy. But as I say in Week 5 of my programs, when we talk about The Cheat Principle, just because maple syrup is naturally doesn't mean you can drink it by the cup full! Moderation folks…
Ingredients (for 2 servings)
1/2 cup Pumpkin Seeds (rinsed and dried)
1 1/2 tsp Extra Virgin Olive Oil
1 tbsp Maple Syrup
1/4 tsp Sea Salt
1/4 tsp Cinnamon
Directions
Preheat oven to 300 and line a baking sheet with parchment paper.
Add all ingredients to a mixing bowl and mix well. Spread seeds across the baking sheet. Place in the oven and bake for 40 – 50 minutes or until golden brown. Stir at the halfway point.
Remove pumpkin seeds from the oven and let cool. Break into pieces and enjoy!
---